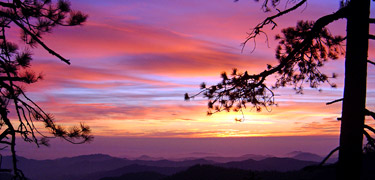 Sequoia and Kings Canyon National Parks in California are two of the more than 100 national parks and monuments where entrance fees will be waived — Aug. 14-15, Sept. 25 (Public Lands Day) and Nov. 11, 2010 (Veterans Day).
Fee waivers include: entrance fees, commercial tour fees and transportation entrance fees. Read details here.
However, other fees (reservation, camping, tours, concession and fees collected by third parties) are not included unless stated otherwise. BTW, many of the USA's 392 national parks NEVER charge an entrance fee.
A land of giants
The Sequoia and Kings Canyon parks "lie side by side in the southern Sierra Nevada, east of the San Joaquin Valley. Activity varies by season and elevation, which ranges from 1300′ to 14,494′."
"This landscape testifies to nature's size, beauty, and diversity – huge mountains, rugged foothills, deep canyons, vast caverns, and the world's largest trees."
Photo: Sunset over the Central Valley below the parks. Source: National Park Service.