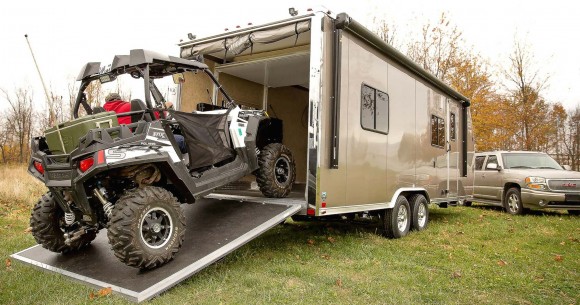 For those who want to haul motorcycles, dirt bikes, or ATVs to their hunting or fishing camp, there is the Sport Utility RV (SURV).
"Available in both motorhomes or towable units, the rear end of a SURV drops down, forming a ramp for access into a 'garage' area for safe storage and transport of motorized toys. The living quarters and garage are frequently separated by a wall," according to GoRVing.com. Toy haulers range in length from 19 to 39-feet. New units go from $10,000 to $170,000 and sleep up to eight.
Many recreation vehicle manufactures carry SURVs in their product line including the Aluminum Trailer Company. The ATC Toy Hauler's floor and the ceiling are welded to the side walls, creating a fully integrated, lightweight aluminum frame that is half-ton towable.
Base weight of the 7-by-20-foot ATC toy hauler is an estimated 3,730 pounds with a GVWR of 7,700 pounds. The 8.5-by 28-foot model with front bedroom, an optional tip out bed and standard features, lists a base dry weight around 5,445 pounds with a GVWR of 11,440 pounds. Interior height is 7-feet.
The final post of this 5-part series on Autumn RVings will give hints on finding campgrounds near hunting, fishing destinations.
To read the complete series on 'RVs for Autumn,' click here.
Photo: Sport Utility RVs, like the all-aluminum half-ton towable ATC Toy Hauler, is ideal for just about any active family who wants to take motorcycles, ATVs or other motorized toys on their autumn camping trips. (Courtesy of Aluminum Trailer Company)