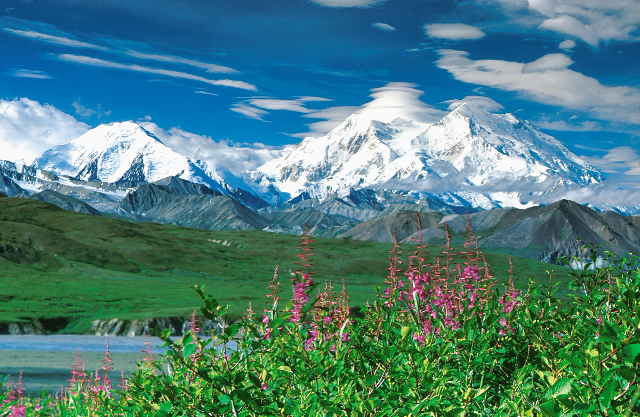 While an "RV rally" is when a group of RVers gather at a predetermined location (typically an RV park) and the tour organizers take over from there — an "RV caravan" is where members drive their own RVs over a pre-planned route. Caravans can range from a few days or a couple of months. The route and daily itinerary are carefully designed to take advantage of sights and places to visit.
Many RVers dream of taking that  'Adventure of a Lifetime' to Alaska.
This summer, full-time RVers Sandi and Ron Miles of Dallas, Texas, will be driving their 2005 40-foot Tiffin Phaeton motor coach as part of a Fantasy RV Tours 60-day, 5,720-mile caravan from Coeur d'Alene, Idaho, to Alaska through Calgary, and the Canadian Rockies. They are taking along, Molly, their four-year old Schnoodle (half Schnauzer, half poodle).
"We love scenery," said Sandi Miles.  "We like National Parks, our favorites are in the Pacific Northwest – Washington's Olympic Peninsula, Mt. Rainer, Glacier in Montana, all of Idaho, especially around Stanley and the Salmon River, and of course the Oregon Coast."
She went on to say that "Glacier National Park was exceptional but there are so many places.  We are very excited to see Alaska."
For books and DVDs about RVing to Alaska, click on RVBookstore.com-Alaska.
If you missed , "Organized RV tours, Part 1" click on — Exotic travel destinations, without leaving the comforts of home.
In Part 3, we'll talk a little about RV caravans to Mexico, Canada's Maritime Provinces and South Africa.
Photos: Denali National Park is always a popular destination on RV caravans to Alaska. (Courtesy: Fantasy RV Tours) Bottom: Sandi and Ron Miles of Dallas, Texas, are taking their first RV caravan to Alaska. (Credit: Julianne G. Crane)