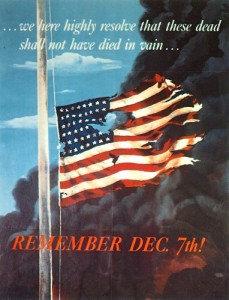 President Franklin D. Roosevelt proclaimed Dec. 7, 1941, "a date which will live in infamy." It was the day a surprise military strike was conducted by the Imperial Japanese Navy against the United States naval base at Pearl Harbor, Hawaii. In addition to nearly destroying the US Pacific Fleet, in only a matter of hours more than 2,400 Americans were killed and 1,280 wounded. The attack led to the United States' entry into World War II  on Dec. 8, 1941.
One of the many events scheduled to commemorate that horrific day and the sacrifice at Pearl Harbor takes place today, Sunday, Dec. 7, 2014, at 12:25 p.m. (CT) at the National Museum of the Pacific War in Fredricksburg, Texas (12:25 p.m. marks the exact time the attack started on Pearl Harbor, 8:25 a.m. ). There will be patriotic music, presentation of colors, rifle salute, and guest keynote speaker Dr. Thomas M. Hatfield, Director of Military History Institute in the Dolph Briscoe Center for American History at the University of Texas, Austin.
Learn more in an RV Short Stops post about the National Museum of the Pacific War, the only institution in the continental United States dedicated exclusively to telling the story of the Pacific Theater battles of World War II, by clicking here.