Texas' Blanco State Park is a relatively small state park that sits on 104.6 acres along the Blanco River, within walking distance of the small community of Blanco, south of Johnson City. It would be a good home base for RVers who want to tour the Hill Country and visit Fredericksburg, Austin and San Antonio. (Check out the weekly and monthly rates below.)  It features picturesque cypress trees, waterfalls, and numerous bird species including herons and cranes.
Because of its location and spring water, early explorers and settlers used the site as an encampment to rest and resupply.
The land was deeded by private owners in 1933 and the park opened in 1934. A spring in the park made the location ideal when the river was dry. Original development of the park were made by the Civilian Conservation Corps.
Costs include a daily entry fee plus campsite fees. (An annual Texas State Parks Pass for $70 allows unlimited visits to more than 90 State Parks without paying the daily entrance fee for card holder and one guest. Daily fees for adults to state parks vary between $3 and $6.)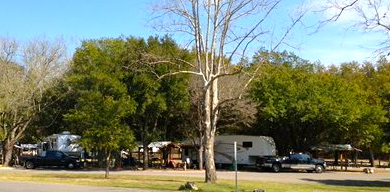 Camping fees:
Blanco State Park tent and RV campsites with water, electricity — $17/night (Nov.-Feb), $100/weekly, $275/month
… with water, electricity (30 amp) and sewer — $20/night (Nov.-Feb), $120/weekly, $325/month
… Premium campsites with water, electricity (50 amp) and sewer — $23/night (Nov.-Feb), $135/weekly, $375/month
Latitude: 30.096782
Longitude: -98.43459
If using GPS, please enter "29 Main St., Blanco, TX 78606"
Photos: Blue Heron fishing the Blanco River; one of the waterfalls constructed by the Civilian Conservation Corps in the mid-1930s (Julianne G. Crane); park campground.