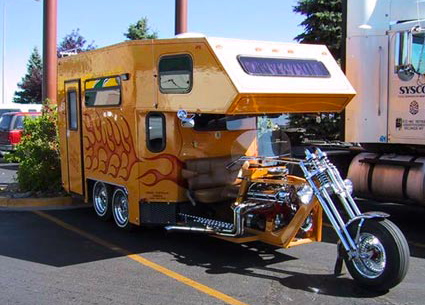 I first saw this customized Harley 5-wheel motorcycle / motor home more than four years ago and loved it.
When I first posted an item about it in March 2008, I searched the Internet trying to find the owner. While the image of this amazing RV was everywhere, there was no information about who created it.
A couple days ago I received an e-mail from Victoria Costillo of Coachella, Calif., regarding this creative "fuel friendly" RV.
"The fifth wheel motorcycle motor home … was created by Trike builder David Castillo from Coachella, Calif. He now has one with enclosed cab and A/C called the Alaskan Cruiser. I know this because I'm his wife."
Photo: Customized 5-wheel motorcycle motor home by David Castillo.