RV Care-A-Vanners volunteer for Habitat for Humanity, an ecumenical housing ministry, seeks to eliminate poverty housing and homelessness from the world, and to make decent shelter a matter of conscience and action.
RVers travel in their own recreational vehicles, covering their personal expenses, to Habitat affiliates across the United States and Canada, to help build houses. Each caravan usually lasts two weeks and includes eight to 10 RV units.
For Habitat Affiliates looking for volunteers click onbuild listing or call the RV Care-A-Vanner desk at 1-800-422-4828, ext. 7534 or 229-410 7534.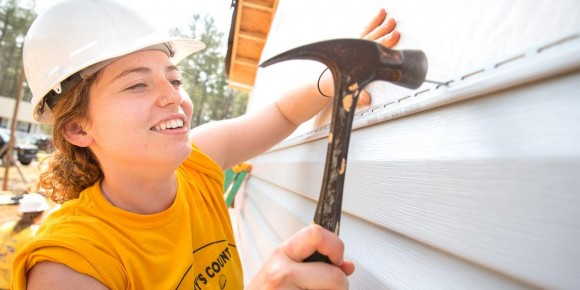 Support Collegiate Challenge
Every year, dozens of RV Care-A-Vanners serve as temporary assistant construction supervisors for Habitat's Collegiate Challenge, an alternative spring break program for students 16 to 25 years of age.
Learn more by clicking on Collegiate Challenge at 1-800-422-4828, ext.2215.
Email: colchal@habitat.org
Photo: College student helps put up siding on a Habitat for Humanity build. (Habitat.org)