Writer Richard Truesdell posted a fascinating article on PickupTrucks.com about a  1968 Silver Streak truck camper mounted on a 1969 Chevy Longhorn. 
This classic combo is "equipped with a big-block 396-cubic-inch V-8, power steering and factory air conditioning."
This truck-camper combo is owned by Henry Wallace, of Prospect, Ky, who has assembled an amazing collection of vintage RVs, pickups, and automobiles.
Wallace, says, "I grew up camping in a 1968 Open Road that had the same style, cab-over bed, and the Silver Streak brings back great memories."
According to Truesdell, "The published specifications for Wallace's C20 three-quarter-ton Longhorn state that the gross vehicle weight rating for a cab-over with rear overhang is a respectable 7,500 pounds. The camper can be up to 10.5 feet long, and the camper itself can weigh up to 1,600 pounds.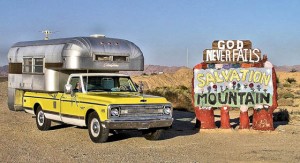 "The companion Silver Streak brochure indicates that Wallace's 10.5-foot camper weighs in at 1,990 pounds, meaning that with a combined 3,000 pounds for the camper, passengers and other equipment, Wallace has about 1,000 pounds to designate for himself, his wife and all their gear."
Read the full article and see more photos featuring this fun vintage beauty by clicking here.
Photo: Visiting Salvation Mountain at The Slabs in Southern California's Mohave Desert. (PickupTrucks.com).