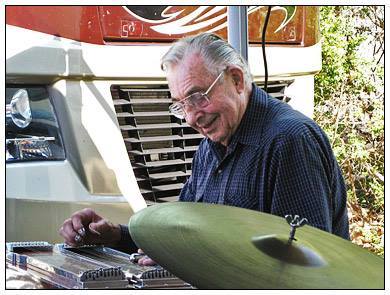 The NorthWest Western Swing Music Society is looking for a few good fun-seeking RVing folks who love dancing and music … and, especially those who have a hankering to learn more about Western Swing.
In an e-mail from NWWSMS' Newsletter editor Jeanne Yearian, she wrote, "Our society is very interested in reaching out to the RV community" to attend the 25th Annual Western Swing Music Festival, Aug. 13-16, 2015, in Auburn, Wash. (If you missed this event, contact the society by clicking here
In addition to a packed schedule of regional and national bands, there are numerous opportunities to enjoy or play in unhosted jam sessions.
"Chuck Hayes (pictured above), based in Oklahoma, spends a good part of the year traveling the country in his RV with his partner, Barbara Karr, promoting Western Swing music," says Jeanne.  "Whenever possible, he sets up a makeshift 'stage' outside his RV and invites other musicians to join him.  Before and during the festival, you can find Chuck set up in the camping area behind the Auburn Eagles Club."  The Club provides a small outdoor stage area as well as two stages in the facility.
"During the afternoons and evenings of the festival," continues Jeanne, "when Chuck and his band aren't performing on the main stage inside the Club, or jamming in the dining hall, there is a good possibility he can be found playing music outside in the camping area. His jam sessions are well-attended and usually last until 1 or 2 a.m."
Western Swing music is made for dancing, according to Jeanne.  "As Truitt Cunningham once said, 'Western Swing is the first cousin to Dixieland Jazz, second cousin to Big Band Swing, third cousin to the Blues and fourth cousin to Country with a little Mexican music mixed in . . . so, there is a little something everyone will enjoy.'
"'Western Swing was the most eclectic form of country music and, in its free-wheeling diversity, it set the stage for rock & roll. Based in traditional string band music, Western Swing also incorporated traditional pop melodies, jazz improvisations, blues and folk – creating a wildly entertaining and eclectic form of American music . . .'"
If you go
25th Annual Western Swing Music Festival
Auburn Eagles Club
702 'M' Street SE, Auburn, WA
Club Room Phone: 253-833-2298
Festival Cost:
Thur., Aug. 13, 7-11 p.m. – Free
Fri., Aug 14, 1-11:30 p.m. – $5
Sat., Aug 15, 1-11:30 p.m. – $5
Sun., Aug 16, 11 a.m.-9 p.m. – $5
RV parking information:
No Reservations – First Come, First Served Basis
Hookups fee: Power/water (limited number available) $17/day
Dry camping – $6 – LOTS of spaces
"Select your spot then pay at the bar or ask for help."
For more information on the society, click here
Photos: (Top) Chuck Hayes of Oklahoma photographed by Don Burnham, band leader of the Lost Weekend Band, San Francisco, Calif. (Bottom)  Dancing are Sharon Capps, the Treasurer of the NWWSMS and her dancing partner Al De Leon. The live music is being provided by the NorthWest band, Sharyn Lee & the Sundowners. Photo by Dennis Ford from Modesto, CA, festival event photographer.