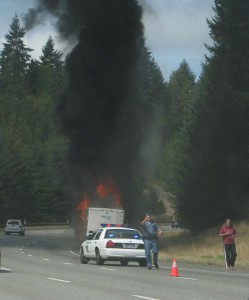 Fires along I-90 in Washington State closed down the interstate last week … one fire near Preston, involved an RV and the other was a wild brush fire near Vantage on banks of the Columbia River.
RV fire stops traffic on I-90
According to the Issaquah Press: "Westbound Interstate 90 near Preston closed for more than 30 minutes Friday (8/20) after a recreational vehicle caught fire at about 1:15 p.m.
"A family of five from the Bothell area was traveling in the vehicle when the front of it began to smoke near milepost 23. Everyone escaped unharmed before the vehicle burst into flames.
"Authorities closed the westbound lanes as crews extinguished the flames."
(See photo top left: A Washington State Patrol trooper detours traffic away from a recreational vehicle that caught fire. By Sebastian Moraga, Issaquah Press.)
Wildfire near Vantage backs up I-90 on Thursday, 8/19
On Thursday afternoon, (8/19/10) I was driving east on I-90, a couple of miles west of Vantage, when traffic in the eastbound lanes was stopped for almost two hours.
A wild brush fire was burning on both sides of the eastbound lanes and because of high winds, heavy smoke was drifting across the highway severely limiting visibility.
Fire fighting crews soon arrived with tanker trucks and at least one bulldozer. Within 30 minutes a helicopter began making water drops over the hot spots. After about 90 minutes crews had contained the spread of the fire and traffic was allowed to pass through the area.
This was a vivid reminder that because of continued dry weather and high winds, fire season is not yet over in the Pacific Northwest.