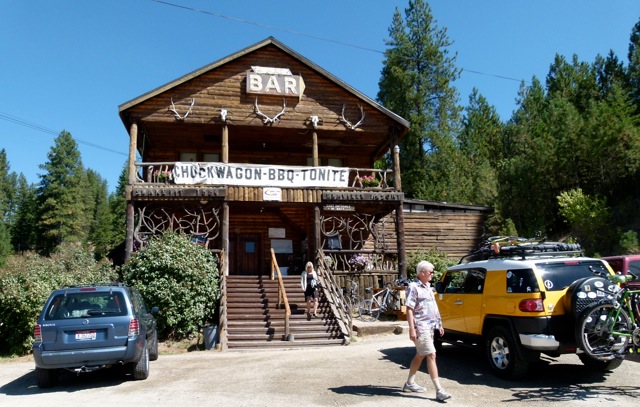 One of the fun aspects of RV travel is having the freedom to take advantage of the serendipity–as in stumbling onto a place that has a fascinating history, decent food and easy access to a bicycle or walking path.
The SnakePit (also known as the Evaville Resort) is such a find. Just 1.5 miles off I-90 in north Idaho, the former railroad layover is only a few yards from the fantastic 71-mile Trail of the Coeur d'Alenes paved path that follows the Union Pacific Railroad right-of-way from Mullan, a mountain mining town near the Montana border, to Plummer, a town on the prairie near the Washington border.
This colorful piece of history dates back to the early 1800s, and is open 7-days a week, year-round.
Directions: From I-90, take the Kingston Exit 43, turn north and drive 1.5 miles up the beautiful Coeur d'Alene River, the SnakePit is on the right.
Read more about the SnakePit by clicking on RV Short Stops.
Photo: RVers Bill and Mary Knowles outside historic SnakePit tavern and restaurant in Kingston, Idaho. (Julianne G Crane)