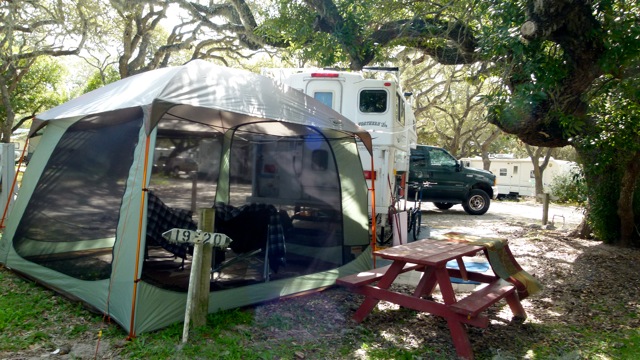 Our rolling cottage is resting for a month in its site at the Sandollar RV Park on the Coastal Bend of Texas.
We returned to the Rockport-Fulton area for a third time because of family in Houston, RV friends in the same park, affordability, and the small town charm of these fishing communities. A huge bonus is the near by Aransas Wildlife Refuge where the endangered Whooping Cranes, and a number of other migrating birds, return each winter.
Part of spending winter on the Coastal Bend is experiencing the seasonal rain patterns that move along the Texas Coast during this time of the year.
RVer Jimmy Smith took a few minutes to write his thoughts about the rain, potato soup simmering on the stove, and other images that tumble through his mind.  To read more click here: "A RAINY DAY ON THE GULF COAST OF TEXAS."
Photos (Click on image to enlarge):  Our site at the Sandollar RV Park. Julianne G. Crane