This is the fourth and final posting on 'RVing with Pets.'
While dogs are the most common RVing animals, 92 percent according to a recent Recreation Vehicle Industry Association survey, cats travel too. About 14 percent of RVers say they won't leave home without their feline friends. Still other RVers admit to favoring birds, fish, ferrets, snakes and horses.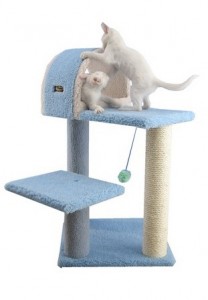 A hint or two for Kitty
JJ Dippel, a retired federal auditor from Aberdeen, Wash., travels full time with Kitty, her 14-year old Siamese/Tabby mix whom "grudgingly goes along" with RV travel.
Because Kitty is a reluctant RVer, Dippel strongly advises other cat owners to consider a scratching post or your feline "will use anything it can find in your RV." Dippel decided on a combination cat condo-scratching post-perch for her 2011 32-foot Forest River Sunseeker class C motor home.
"My cat loves it," she says. Kitty's playhouse is covered with carpet and stands three feet high. It "is just at the perfect height for the rear window in the RV. My cat loves to sit on the perch and gaze out the rear window."
There are many stylish traveling carriers designed for the modern, fashion-minded cat including a zebra print, screened tote (left).
Another RVer had the factory put a door on the storage area under one of the dinette benches for the kitty's litter box and to have it out of the way. They then took the door off and put a curtain and push rod in place, so Fluffy could come and go. It could also be used as a hiding place.
As a final note, RVer Carol Willis of Xenia, Ohio, who traveled with a 55-pound Samoyed named Miska, reminds fellow RVers to be responsible pet parents. "Please remember that your pets are your 'children.' They depend on you for all of their care, love and attention. Think about the unthinkable happening and plan. Remember that they love you with no strings."
Click on the follow links if you missed …
'RVing with Pets' part 1 — with professional photographer and 'The Dogs of Central Park' author Fran Reisner.
'RVing with Pets' part 2 — 'Before hitting the road.'
'RVing with Pets' part 3 — 'Safety tips from animal behavior expert Diana L. Guerrero.'
Photo: (Top) 30-inch Blue Cat Tree by Armarkat. (Bottom) Soft sided carriers available at pet stores and online.