(Editor's note:  ALL CAPS hot links are NOT the actions of RVWheelLife. Do NOT click on them and disregard.)
Towards the end of August, Jimmy  bicycled into the small community of Sutherlin, Ore., about a mile from the Timber Valley SKP Park, to our post office box and pick up a few items at the grocery.
At one of the three lights in town, Jimmy spotted a loaded-down bicycle tourist on the other side of the street.
Jimmy, a long-distance bicyclist himself, quickly crossed the street to say hello and comment on the traveler's custom-built Co-Motion bicycle made in Eugene, Ore. (a few miles north of Sutherlin).  The cyclist then glanced at Jimmy's bicycle, a Bike Friday, also hand-built in Eugene. With a common interest in quality bikes, they introduced themselves.
Jimmy soon learned that the cyclist, David Linzmeyer, is an engineer from New Zealand on a solo Trans America tour.
It seems that only the day before David's locked bicycle and complete kit were stolen. Luckily for David he was carrying his wallet and mobile- phone. Because of his fast actions, David was able to recover his still locked bicycle and clothes; however the thieves absconded with all the easy to carry bicycle tools and electronic
equipment, including computer and camera.
Still visibly shaken from the ordeal, Jimmy told David he had a few extra bicycle tools he could give him and invited him home for a bite to eat and a hot shower.
Over a glass of wine that evening, David told us he said goodbye to his longtime partner, Pauline, at the Golden Gate Bridge in San Francisco and started bicycling north.
His plans are to peddle north, along secondary roads to Portland, then east through Montana, Wyoming and Colorado. His ultimate destination is Maine, however, depending on weather, he'll settle on Minneapolis, Minn., where he has friends.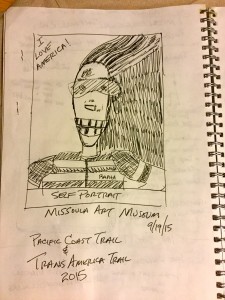 Recently we received an email from David, just west of the Hoosier Pass in Colorado.
"So much has happened since visiting with you. The days have been so rich and full that haven't been able to stay in touch very well.
The "trip is the most awesome thing I've ever done. Even though it's been hard lately with weather.
"I have met so many more like-minded and generous people, like yourselves. It's still a bit of a mystery how we seem to attract one another. And it's happened so often now on this journey.
"And Icontinueto experience the amazing kindness that pervades the American heartlands. I love America
. And Americans.
"I had a particularly hard yet interesting time in Wyoming. It really broke me down psychologically, the barren landscape and merciless wind in a high area called the Great Basin.
"It's good for a man to know defeat. And if he wishes to know it utterly, go there on a bicycle too late in the season.
"(I) am about to climb up to Hoosier Pass, the tallest climb of the entire route, up to Breckenridge, Colo., today. It's a huge climb and weather has been terrible lately, but what keeps me going is its n the 70s in Denver area."
"A few pics of Wyoming, state I hate. And a self portrait from Montana, state I love."
Photos: (Top) RVer and cyclist Jimmy Smith works on David Linzmeyer's Co-Motion bike; David and Jimmy stand by their bicycles; David heading out the next morning on the next leg of his bicycle tour. (Julianne G. Crane)
Bottom two: Self-portraits: "I love America" 9/19/2015, Missoula Art Museum, Montana;  and somewhere on a lonely highway in the Great Basin area of Wyoming. (Courtesy of David Linzmeyer)