Years ago, almost half a lifetime, I taught journalism at the Omaha campus of the University of Nebraska. I still remember the hot and humid summers. It would have been amazing if the Lewis and Clark Landing waterfront development would have been there.
The 23-acre Lewis and Clark Landing park on the mighty Missouri River was finished in 2003. Located just north of Omaha's downtown, it features open space, benches and historic exhibits. Its convenient access and numerous events make it a frequent destination for all who want a slightly cooler breeze.
Among its facilities, there is a plaza with bench seating, exhibits, a water jet spray fountain (perfect for the very hot summer days), a Fiber Wave Sculpture, play area, and a National Park Service Visitors Center.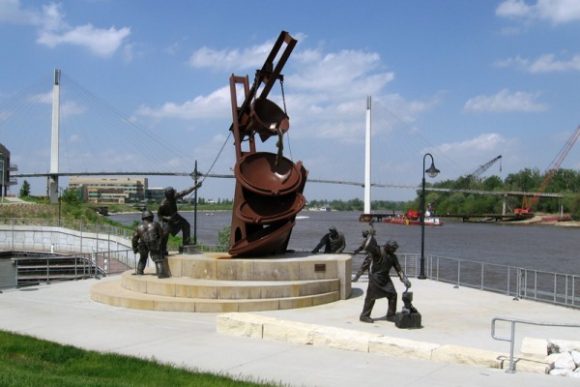 The 3000 foot long, 15 foot wide Bob Kerrey Pedestrian Bridge was completed a couple years later in 2008. Spanning the Missouri, it connects Nebraska with Iowa and is perfect for leisurely bicycle rides.
The footbridge "is an s-curved cable-stayed bridge with a striking, modern design, perfect for a midday stroll or refreshing night time walk. It's something of a must-see for visitors, especially at night, when the multi-colored lights are turned on and spiders spin impossibly long webs between the bridges many cables," according to Omaha.net.
For 10 RV Parks near Omaha and Council Bluffs, click here. Click here for a map.
If you go:
Lewis and Clark Landing
Bob Kerrey Pedestrian Bridge
705 Riverfront Drive
Omaha, NE 68102
United States
Phone: (402) 444-5900
41° 15′ 49.3488″ N, 95° 55′ 27.6996″ W
(402) 444-5900