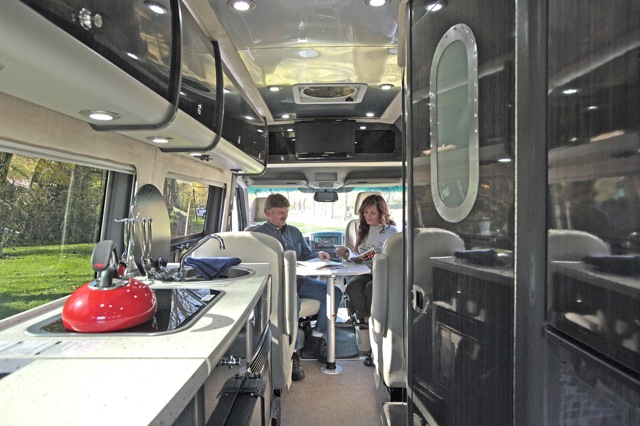 Class B motor homes are an excellent choice if most of your traveling will be on highways and paved roads.
Fulltime RVers Thom and Dar Hoch of Wisconsin are planning to downsize from their 2007 39-foot Newmar Kountry Star Class A motor home. After five years "on the road," they are considering either a truck and camper or a Class B van for their revised RV lifestyle.
"No final decision has been made," said Thom Hoch, "but we're getting close." What the Hochs favor about the Class B is its compact size, tight interior design and "stealthiness."
"Class Bs are smaller and more nimble than most other RVs," said Hoch. "With the exception of truck campers, the B is easier to drive and more nimble than other RVs, especially the rigs that have to be towed." They can usually fit into the tightest of camping sites.
Sportsmobile
The Hochs stopped by the Sportsmobile factory in Fresno, Calif., to view how the company converts Ford, Chevy/GM and Mercedes-Benz vans into "luxurious travel homes." According to Sportsmobile, 98-percent of their customers drive their Class B as their first or second family car.
The Class B's interior offers many options have dual purposes, observed Hoch. "The driver compartment's seats can swivel around and become part of the living space. The bed, depending on the van's design, is usually configured so it also becomes part of the seating or dining area."
Class B motor homes can be made "to look much like any other van out there without the crazy splash graphics that's become so big with RV manufacturers today," said Hoch. "It's possible to have a great camper that doesn't look like an RV. That broadens your parking and boondocking opportunities. It's hard to be a stealthy camper driving a 39-foot motor coach or towing a fifth-wheel trailer."
Other posts on Class B motor homes
– Part 1 — "Is it a family van or a recreation vehicle?"
– Part 2 — "Eileen and Fred Nickerson: Easy to drive, even in downtown traffic"
– And, Part 3 — "Carol & Phil White: Lived their 'road trip dream' in 19-foot Pleasure-Way"
Tomorrow in the final installment of the five-part series on Class B motor homes, author Carol White suggests several points to consider before purchasing a van conversion.
Photo: Courtesy of Go-RVing.com