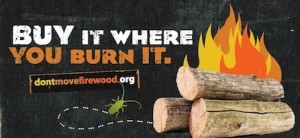 Our favorite places to camp are in remote areas on public lands.  More and more we are noticing the vast amounts of forests that are being devastated by invasive insects–just this week we ran across a number of USFS campgrounds "closed due to large volume of hazard trees from beetle kill."
This destruction not only ruins campers' experiences in favorite outdoor recreation sites and animal habitat, it hugely impacts forest economies and ultimately increases the costs of lumber products.
Just yesterday, Molly Sullivan of the Washington (State) Invasive Species Council sent this e-mail: "We are currently trying to spread the word about the potential for transporting harmful invasive species in firewood through the Don't Move Firewood campaign. Since the weather has finally alerted us that it is indeed summer, we know that many people will be going on their camping adventures soon."
"The season for fireworks, roasting marshmallows and camping is here.  This also brings the threat of transporting invasive species in the wood because we love to burn while sitting around the campfire."
"Campgrounds and parks are often the first areas that tree-killing insects and diseases are spread because of firewood.  Don't risk hurting the places you love.  Always buy firewood where you burn it, and ask if the wood you are buying is from local trees in order to avoid spreading invasive species and diseases."
For more information about the status of each state's injurious pests, visit dontmovefirewood.org.