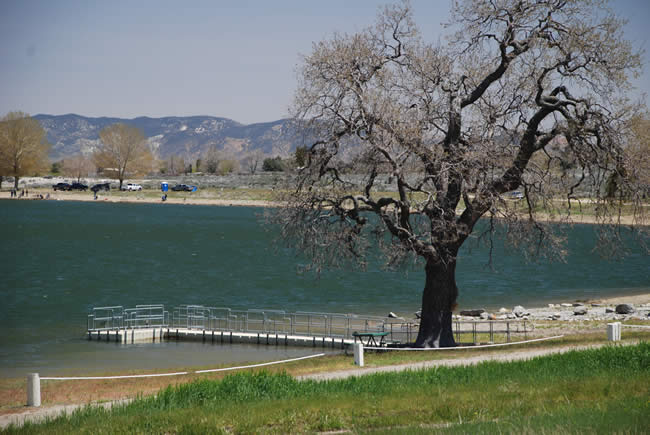 RVer Ron Tyrrell of Oregon writes: "Brite Lake is a park to put on your list of places in California to stay."
The park "is in the Tehachapi Valley and is one of the nicer parks we have stayed in our travels."
It is a convenient location for snowbird RVers making their way to-or-from Arizona and southern California using Hwy 58, between I-5 and I-15.  "I thought it worth a mention because of the locale," writes Tyrrell.
Operated by the Tehachapi Valley Recreation and Park District, Brite Lake is located in a beautiful natural area. There is year-round recreation including camping, fishing, hiking and wildlife viewing.
The park offers both RV campground hook-ups and tent sites, year round. There are restrooms with showers, fish cleaning stations, dump station, and a dock.
All campsites: First come, first serve.
$20 with electricity/water; $30 with electricity/water/sewer; tent/dry camp: $15
Location: 22902 Banducci Road, Tehachapi, Calif. (View map)
Phone: 661-822-8047
— Julianne G. Crane

UPDATE 12/4/16: We pulled in here and did not stay. The dirt park roads have not been maintained in quite some time. There were scores of pot holes and runoff ruts across the roads, making it very difficult for recreation vehicles to drive through the park to possible sites. Our truck/camper rocked quite a bit. We couldn't spot a level site, so we left for Mountain Valley RV Park, about six miles east.
Photo: (Top) Brite Lake dock. (Courtesy of Tehachapi Valley Recreation and Park District website)  (Bottom) Camp site in spring (Courtesy of Ron Tyrrell).