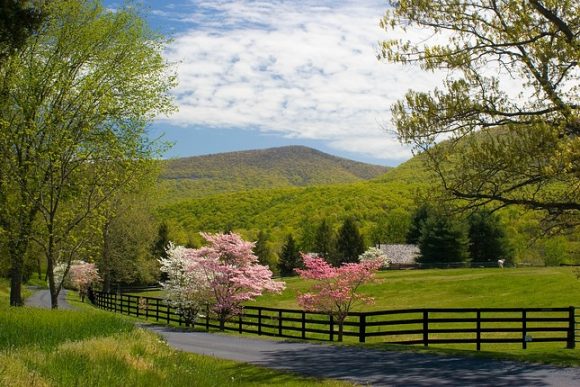 Whether it is the hills calling me home, pink dogwoods in bloom, or the hypnotic blinking of fireflies–I'll be forever drawn to the Appalachian Mountains, the land of my birth.
Whenever traveling to the region, we always make our way to the homestead of cousins Mary Jane Huber and her partner, musician John Winnicki near Floyd, Virginia.  We also love this southwest region of Virginia for its traditional mountain music. One visit to Floyd, especially over a weekend, and you'll understand.
If you find yourself traveling along the Blue Ridge Highway, pull off near Floyd and prepare yourself for great music at the Floyd Country Store and other live venues including nearby Chantilly Farm that also features acres of grassy fields, woodlands, and abundant wildlife — the perfect backdrop for both gatherings and full hookups or rustic tent camping.
One upcoming rally is the 'Buses at Chantilly' gathering and concert. To read about it and other events, click here.
Photos: (Bottom) Chantilly Farms.