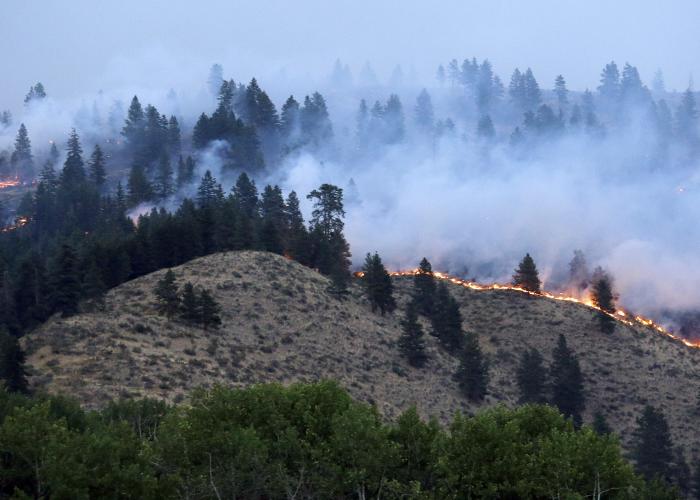 Wildfires are burning across Washington, Oregon and Idaho. The most recent of concern to us is the Big Cougar Fire burning on the Idaho side of the Snake River in extremely dry and rugged timber and grass lands. As of Friday, Aug. 8, afternoon, more than 55,000-acres have been scorched and it is only about 20-percent contained. The fire was ignited Aug. 2 by lightning, 24 miles south of Lewiston. For information on this fire go to the Incident Information System (InciWeb)
Our current route takes us south along Hwy. 3 through the Wallow-Whitman National Forest in northeast Oregon. It appears on the map (at right) that the wildfire is a good distance from our route and first stop at Wallowa Lake State Park near the national forest. However, with the region's continued "warmer and drying trend for the next few days with highs in the mid 90s," all of us who love and use our nation's public lands need to be alert to all wildfire activity. For the latest information on these and other wildfires in Washington and Oregon, go to: Northwest Interagency Coordination Center.
Burning much closer to the park is the smaller (1,615 acre) Hurricane Creek Fire (50-percent contained) that was ignited by lightning on July 14. It is "approximately 4 miles southwest of Joseph, Oregon in the Eagle Cap Wilderness. Fire is burning on the backside of Chief Joseph Mountain" that is visible from Wallowa Lake State Park.
Images: Top: Taken in the early stages of the Big Cougar Wildfire. (Source: BoiseStatePublicRadio.Org). Graphic: Big Cougar Fire is at the top, the Highrange Fire is the lower section of the map. (Source: Inciweb) Bottom: Hurricane Creek Fire (Inciweb).