Time to begin planning those side-trips to your RVing summer trip through the Pacific Northwest.
The Basque Museum & Cultural Center is the one of those little know museums that holds amazing exhibits, collections, and tours. It is the only museum in the United States dedicated to preserve, promote, and perpetuate Basque history and culture. Located in downtown Boise, Idaho, the museum provides an active central location for maintaining the Basque culture in the United States.
The Basque Museum & Cultural Center often has presentations and lectures with varying topics. These have included everything from the "Bombing of Gernika" to "San Inazio for Beginners" and many in between. For a schedule of events/presentations/lectures, check out the Museum's Events Page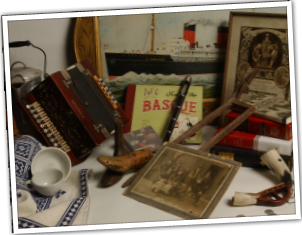 RVing visitors will enjoy a variety of exhibitions. See the latest in Basque "artifacts representing thousands of years of rich history and culture. The Basque Museum brings to life the triumphs and struggle of the Basque people with many stories from the U.S. as well as their homeland."
To read more about Basque Museum in an article I wrote for the RVShortStops.com website.
Photos: (Top) The Basque Museum & Cultural Center in downtown Boise, Idaho, and (bottom) examples of artifacts. (Source: Basque Museum & Cultural Center)