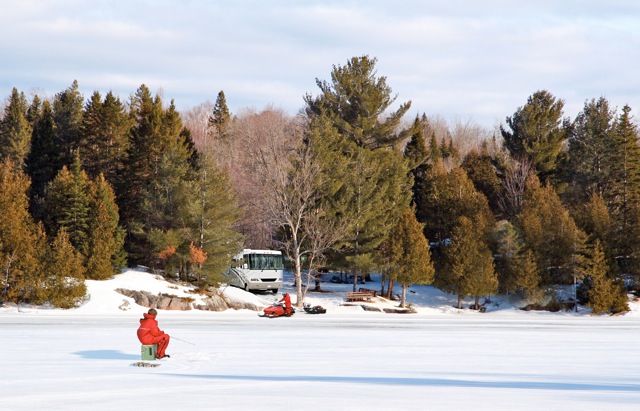 "I love the fun of having a portable winter cabin all ready to go," said Chris Dougherty, owner RV Medics LLC of New England in Springfield, Mass. "It's amazing how cozy a warm, comfortable little RV home can be with snow and cold outside."
An RVer most of his adult life, Dougherty, an RVIA/RVDA Certified RV Technician, spent 10 years living full time in his specially modified Monaco motor coach in New York State's Hudson Valley.
"While many RVs are being built today with winter use in mind," said Dougherty, "the biggest issue, of course, is protecting the water system. If you are not going to need the plumbing, then traveling with empty water tanks solves most of your problems."
Even in the deep winter, people can ice fish with the comforts of home. Manufacturer Forest River RV produces the True North Ice Lodge, and Salem The Ice Cabin … travel trailers that can be taken out on the ice and with the touch of a few switches, it can be lowered to the ice "making your ice fishing experience a breeze," according to Forest River RV of Elkhart, Ind.
In the final post of a four-part series on Winter RVing we take a look at a handful of common sense cold weather RVing suggestions.
Also read Winter RVing, part 1 — "Not much different than summer camping" says Mike Wendland
Winter RVing, part 2 — Rich and Joanne Bain don't limit camping to the warm seasons
Photo: Ice fishing and snow mobile riding are two favorite winter activities of campers using a self-sustained Recreation Vehicles. (Courtesy of Go RVing)