"Travel and outdoor enthusiasts with special physical needs are recapturing their mobility and enjoying time on the road in Recreation Vehicles," reports the Recreation Vehicle Industry Association. "RVs are the ideal way for everyone to experience the open road in convenience, comfort and style."
It's smart business for RV manufacturers to build in factory modifications before delivery. Two of the companies that offer such adaptations are Winnebago Industries and Foretravel Motorcoach.
"Making motorhomes more accessible and comfortable for an individual or a family to use and enjoy is a big part of why we offer this service," said Sonya Kobriger, sales representative with Winnebago Industries. "We try to involve the customer in many of the desired modification decisions whenever possible so that the finished product really is `their' motorhome."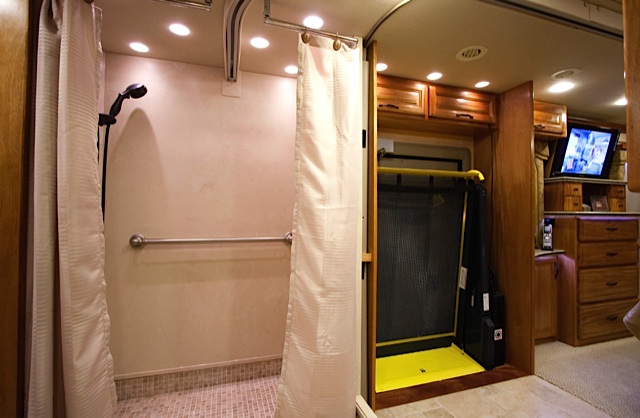 "Foretravel has a special ability to adapt our motor coaches because we build our own chassis in-house, which allows for various modifications," said Eddie Hill of Foretravel's marketing department.
In addition to the wheelchair lift, another available adaptation is "a ceiling rail system that will allow the occupant to be hoisted and travel safely throughout the coach." Other modifications include widening entrances and interior pathways, lowering kitchen counters and cabinets, and designing roll-in showers.
Tomorrow in RVing with Special Physical Needs, part 2 — 'Full-time RVers Lori and Mike Sanders travel, play'
Photos: (Top) Various wheelchair systems and lifts are also available with Winnebago's accessible motor coaches. (Courtesy of Winnebago Industries) Bottom: Foretravel's motor coach adaptations include a chair accessible shower, chair lift into the bedroom area, and lift rail system in the ceiling. (Courtesy of Foretravel)