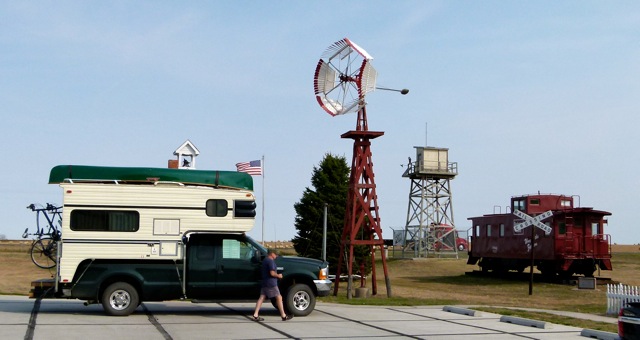 If you only have a few minutes between getting from here to there in Nebraska, don't bother to stop at the Nebraska Prairie Museum.
However, if you are the type of people who look for fascinating spots that tell you how people lived in a different time; and you are slowing heading south along the two-lane Hwy. 183, from I-80 … maybe on your way toward Kansas or the nearby Corps of Engineers campground — you gotta check this place out.
There is more than one acre of indoor exhibits with collections of period clothing, antique toys, farm equipment, tools and household items and a unique W.W.II German POW exhibit room. There are also at least eight external structures including a church, school, farm house and POW Guard Tower.
Open seven days a week. Free–however, donations of $5/adult, $2/10-and-under are appreciated.  To see lots more photos and read a little more about the Nebraska Prairie Museum click here.
Photo: The Nebraska Prairie Museum includes ample parking for big rigs and at least eight external structures. (Julianne G. Crane)