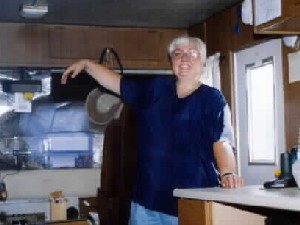 Adrienne Kristine, who wrote for Women RVers.blogspot while she was solo RVing, shares a few thoughts about solo women on the road during the holidays.
"I've been alone on most holidays for many years but I'm never lonely. The nice part about being solo is there's always room for one more at someone else's holiday table.
"If I have no dinner invitation, I go to a Chinese restaurant and enjoy a tasty meal away from the crowds of other diners waiting for their traditional meal.
"When I have the Thanksgiving or Christmas holiday off, I sometimes round up some friends or neighbors to go to the local shelter to help serve dinner to those who would not have a meal without assistance.
"That's always my favorite present.
"On other Christmas eves or days I just enjoy 'A Christmas Carol' (with George C. Scott) and 'A Christmas Story' (with the inimitable Darren McGavin) accompanied by hot soup or stew, crusty bread, chocolate and a latte.
"On New Year's Eve, I stay home, cook black-eyed peas with soy ham (another borrowed tradition), bake some corn bread, drink egg nog,  watch a favorite DVD and wait for the ball to fall at Times Square. I turn off the TV and am usually in bed by 12:15 a.m."
Photo: Adrienne Kristine in her motorhome.