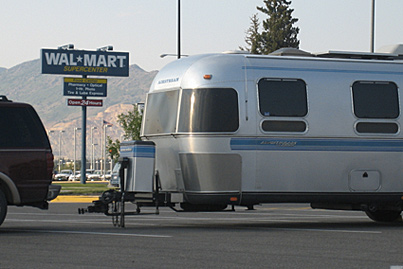 Recent posts on two leading RV online sites bring attention to how the actions of a family of traveling musicians temporarily living in their car at an Arizona Wal-Mart can potentially take away a huge convenience of free overnight parking for thousands of responsible RVers.
It seems that on March 24, 2015, wrote Russ De Maris on the RV Pavement Camping blog: "An episode involving police and 'Wal-mart campers,' has left one man dead, a police officer shot, another man hospitalized, and a number of family members in jail. The Cottonwood, Arizona confrontation has also rung up fears that retail giant and RVer-favorite, Walmart, might consider shutting down overnight parking at their stores." Read more on RV Pavement Camping by clicking here.
Greg Gerber, editor of RV Daily Report, writes in the RVTravel.com newsletter: "What turned out to be a wonderful perk offered by Wal-Mart to RV owners everywhere, will come to an end because some idiots opt to use Wal-Mart as a campground, rather than as a safe place to park an RV for a few hours to catch some sleep." Read more in Gerber's editorial by  clicking here on RVTravel.com.
In the six years of almost full-time RV-ing, Jimmy and I have never parked overnight at a Wal-Mart, and only twice at a casino; however, we very much appreciate the fact that if we needed to park there in an emergency, the privilege was available.
As Escapees RV Club members, we ascribe to the:
ESCAPEES CODE OF PARKING ETIQUETTE
1. Obtain permission from a qualified individual.
2. Park out of the way.
3. No awnings, chairs, or barbecue grill.
4. Avoid using slide-outs if at all possible.
5. Do not use your leveling jacks on asphalt.
6. Limit your stay – one night maximum!
7. Purchase gas, food, or supplies as a form of thank -you when feasible.
8. Always leave an area cleaner than you found it.
9. Practice safety precautions.
Photo: Courtesy of RVTravel.com