We passed a dozen bicyclists pedaling along the road leading into Oregon's LaPine State Park — always a good sign since we like to both hike and bicycle whenever possible when we are traveling.
The park is set in a "sub-alpine pine forest where the air has that high-Cascades tang" next to a twisting, cold Deschutes River "brimming with trout (and a nearby legendary fly fishing spot) and surrounded by miles of waiting-to-be-explored wilderness."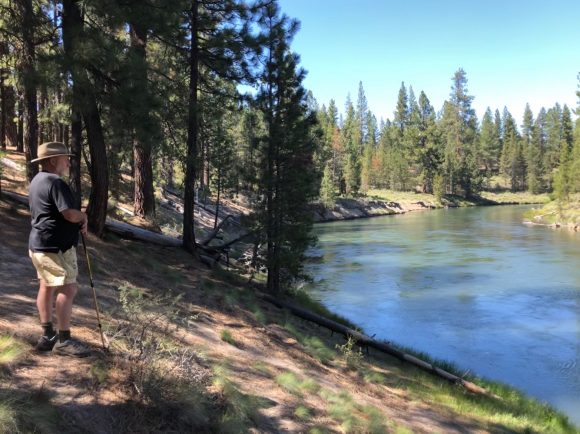 LaPine is a popular park not only because of its location along the Deschutes, but because of its many outdoor amenities.
One of the  hike/bike trails leads to a 500-year-old Oregon Heritage Tree, known as "The Big Tree" … Oregon's largest Ponderosa pine reported to be 162-feet tall and 28.9-feet around.
This year-round campground is six miles off US 97, about 27 miles southwest of Bend. There are 82 full-hookups with sewer, electricity and water ($29/night), 47 electrical sites with water ($26/night), plus rustic and deluxe cabins.
Acreage: 2,333.12
Annual overnight campers: 43,000
If you want a site during the warmer months reserve it online by  clicking here.
Another favorite Oregon State Park a few miles further south on US 97 is Collier Memorial State Park with the adjacent Collier State Logging Museum.
Photos: (Top) Kayakers access the Deschutes River at the Day Use area in LaPine State Park. (Oregon State Parks) (Middle) Jimmy Smith hiking along the "trout-filled" Upper Dechutes River. (Bottom) Camp site #134– on the North Loop. (Julianne G. Crane)