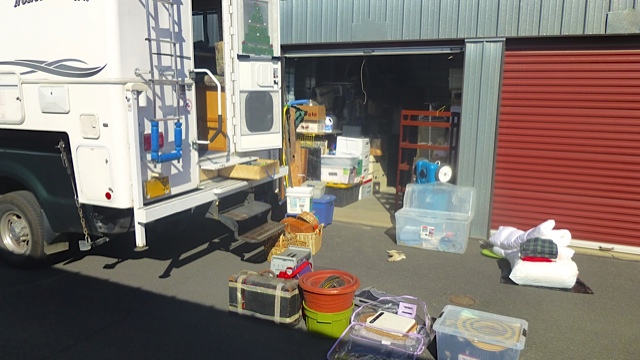 At least twice a year Jimmy and I visit all the "stuff" that didn't fit into our truck camper when we first started RVing full-time more than six years ago.
Originally we had plans of only being full-timers for two years, three at the outside. And, then we would … well, actually we didn't have any idea what we would do next.  We figured 'something' would come up and present itself.
Well, in July 2014 we found we were tired of not having a permanent homebase and decided to put ourselves on the Timber Valley SKP RV Park "wait list" in Sutherlin, Or. We figure we are still at least a year off from becoming a lease-holder at the park, which includes a highly coveted storage shed.
In the meantime, we still have to store our 'stuff' somewhere and that place is a 10-ft.-by-20-ft. locker in Spokane until we make other arrangements closer to Sutherlin.
After having some household objects in storage for six years, it becomes almost like Christmas every time we visit our things.  We find it is time once again to start taking a good look at these "valuables" and start eliminating objects that don't serve us anymore and donate, recycle or toss out the rest. Easier said then done.
Photos:  Outside and inside our 10-foot by 20-foot storage unit in Spokane, Wash.  (Julianne G. Crane)