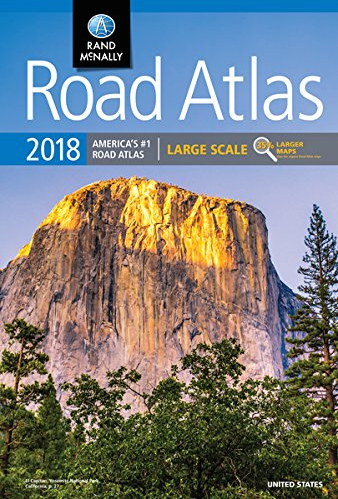 United States "2018 Road Atlas – Large Scale" (Rand McNally, 264 pages, spiral-bound, $19.95). Published: April 17, 2017
Although most RVers have a GPS device, every traveler needs a good map book within reach when their GPS doesn't work properly–or gets you into a bind.
One of my favorite is the spiral-bound, large-scale edition. It is especially handy because it can be folded over on itself for easy reading (by the navigator) while traveling.  One downside is that most states are divided up into multiple pages and may require flipping back and forth.  (Whatever state we are exploring, I usually carry along an official state map that we pick up at a Welcome Centers.  I know this may seem redundant, but as the 'official' navigator and lover of maps, I take my job seriously.)
The 'Large Scale' Atlas features maps that are 35-percent larger than the standard atlas. There are 350 detailed inset maps of U.S. cities and national parks. The enlarged city maps are extremely helpful when negotiating through big cities, particularly during rush hour when alternate routes may be needed.
This popular atlas is available at many retail outlets and online.