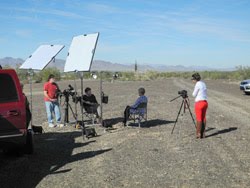 Author and longtime RVer Jaimie Hall Bruzenak talked about the RV lifestyle on CBS' This Morning.
Lee Cowan, CBS National News correspondent, interviewed Jaimie in Quartzsite as the RV lifestyle expert for a segment the program is doing on women RVers.
The piece also featured The Texas Ramblin' Roses chapter of RVing Women.
Jaimie was interviewed on the far edge of the Scadden Wash, Bureau of Land Management's 14-day area, where she and her husband, George Bruzenak, had parked their 32-foot New Horizon fifth wheel, with the Boomer group of the Escapee RV Club.
Read more on Jaimie and her co-author Alice Zyetz by clicking on: RV authors Jaimie Hall Bruzenak and Alice Zyetz pen another book
Photo: Lee Cowan, CBS National News correspondent interviewing Jaimie Hall Bruzenak. Courtesy of RVLifestyleExperts.com