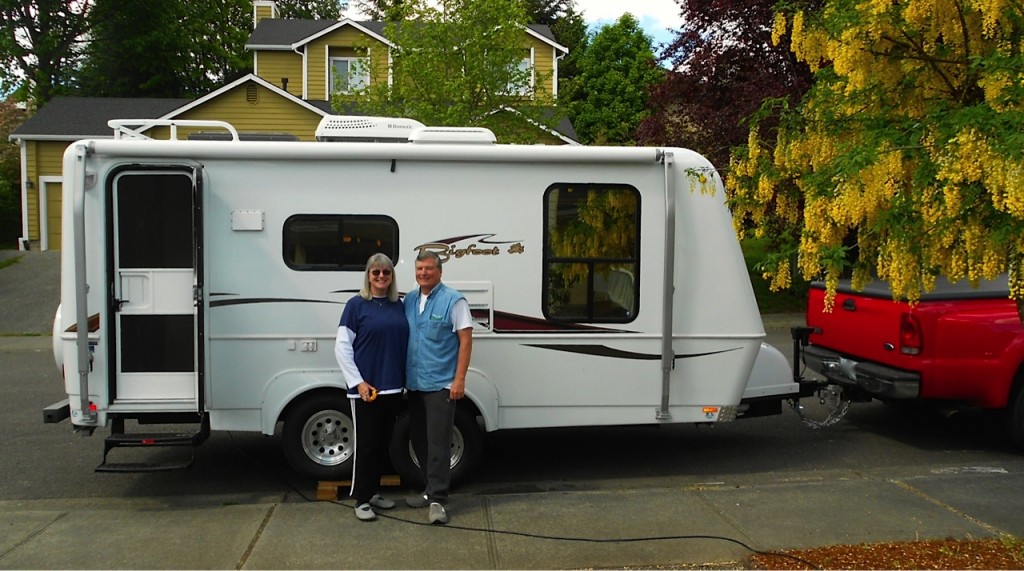 We origionally crossed trails with this Pacific Northwest couple the first winter we were snowbirding through the Southwest. That was almost five years ago at New Mexico's Pancho Villa State Park, just this side of the Mexico border. It was the first week of December 2009 and Nann and Rob of Beaverton, Ore., were slowly making their way home after visiting their son's family in Oklahoma for Thanksgiving.
For 14 years they traveled in their dually one-ton Ford truck with a 12-foot Fleetwood Caribou (see below). These days they are driving a 2014 Silverado 3500 diesel and pulling a 22-foot Bigfoot travel trailer (above).
"The main reason we traded-out our camper for a trailer was that our travels changed," writes Nann in an e-mail. "We no longer pull the boat (why we went for a camper on the pickup in the first place) and are taking longer and longer trips, farther from home, where having a trailer that just 'unhooks' easily and gives us a vehicle for day-trips makes perfect sense."
The couple still heads to Oklahoma for Thanksgiving, but have discovered "how lovely it is to leave the first of September" on that trip. "Last year," she continues, "we headed down the Oregon Coast, through the northern California Redwoods, over to Mojave, through Lake Havasu and Yuma, and then a few fantastic stops in the Texas Hill Country on our way to travel the Gulf Coast. Neither of us had ever been there before. "
After leaving Texas, they headed north in Alabama. "Then it was a bit of mountain camping, resort camping to see Nashville, and even looking for the ghost of Elvis in Graceland. It was such an amazing trip.  We just loved it."
Even though their trailer is relatively small, they are "loving the extra room for storage and personal comfort," Nann says. "The dinnette is longer so we both can sit sideways on each side with our feet up to read or watch TV. I no longer crawl around on hands-'n-knees to make the bed."
"One of the biggest things Rob likes is that the back-seat of the truck is no longer a floor-to-ceiling pantry. Since the pick-up doesn't have the camper riding in it anymore, our extra food and paper supplies all fit under his locking tonneau cover on the truck bed. I like the storage inside–shelves for my clothes instead of just all tumbled into a hutch, lots of over-head cupboard storage, and we even have a cupboard by the door to stash our extra shoes out of the way."
Read more about this RVing couple when we met them in 2009, by clicking here.
Photos: Top: Nann and Rob of Beaverton, Ore., with their 2014 Silverado 3500 diesel and 22-foot Bigfoot travel trailer. (Courtesy of Nann and Rob) Bottom: Rob and Nann in 2009 relaxing at the Pancho Villa State Park in Columbus, NM. (Julianne G. Crane)