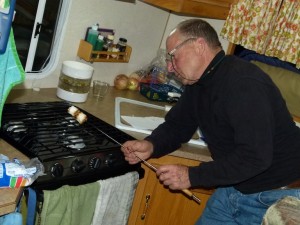 Jimmy and I are into the first week of our sixth year of RVing around America. This Autumn we are heading East from Spokane to visit family and friends with many stops in between.
As we sit in a campground during a rainstorm that is moving through the Midwest, Jimmy decides to update his musings on  "Jimmy Smith's Another View."
"I was just standing outside our camper. Darkness was falling like a quiet cascade. The crickets, the harbingers of the old country of my youth and a reminder of the rapidly changing season, were ringing into the quiet," he begins.
To read more click on "Jimmy Smith's Another View."
Photo: Jimmy Smith roasting marshmallows inside camper during rain shower. (Julianne G. Crane)