After surviving the steep, narrow roadway, known as Hwy. 49, through the Sierra Nevada foothills, we rolled into the Escapees (SKP) Park of the Sierras, 30 miles south of Yosemite National Park near the mountain community of Coarsegold, Calif.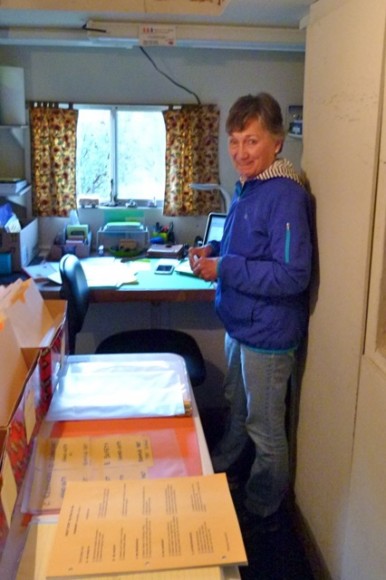 Jimmy and I were members here in 2012-13 and consider ourselves lucky to still have a number of good friends who, between travels, call this park their home base.
Two of those wanderers are Marilyn Russell and Bill Estes who began RVing together part-time in 2005 and went full-time in 2008. Since then they have crisscrossed the USA and volunteered as camp hosts at a number of national parks including Zion and Death Valley.
Prior to RVing, Marilyn was a registered nurse for 44 years and a nursing instructor at Colorado Northwestern College. Bill spent more than four decades as a journalist and RV writer, editor and author. Many of those years were with the Affinity Group as the Group Publisher for RV Publications.
These days Marilyn is facilitating a program for POS members called "Next Step: My Plan for Me," a project she developed with Char Streit, June Honholt and Ron Stockall. 'Next Step' encourages members to be proactive in their own aging planning.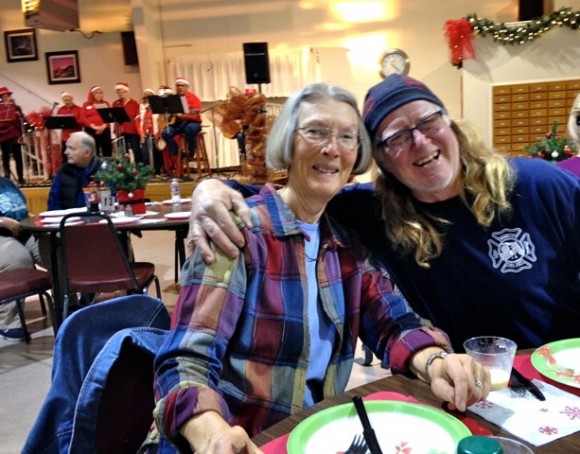 'Flat-landers' Char and Dave Streit, originally from Minnesota, have been RVing more than 45 years, the last 14 full-time.
We met in 2013–Char and I at the POS Writers' Group; and Dave and Jimmy as volunteers on the park's maintenance crew.
During our travels since, we've managed to meet up to eat Mexican food in Yuma, dine on fresh Salmon in Spokane, and drink craft beer in southern Oregon.
When in residence at Park Sierra, Char is one of the rotating editors for the park's monthly newsletter, the Speak E-Z  and is devoting more time to writing poetry, especially Haiku.  Dave continues his work on the maintenance crew.
Another full-time RVer friend at Park Sierra is Joyce Caudell, who has solo RVed for almost a decade. We first met the retired nurse seven years ago when she was boondocking over the winter months on BLM land near Quartzsite, Az.
Over the years she has volunteered at various public campgrounds including stints for state parks, National Park Service and Army Corps of Engineers.
One of her most rewarding workamp jobs was at the Wallowa Lake State Park in northeast Oregon where she worked for the Nez Perce National Historic Park Service giving demonstrations and evening amphitheater programs about Nez Perce Nation cultural items. "I learned so much and fell in love with the Nez Perce people and culture, past and present," she says.
We never tire of catching up with Paul and Becky Bates, formerly of Hawaii, who have been on-the-road since 2004, living and traveling full-time in a 5th wheel trailer.
They have covered thousands of miles including the RVers' Bucket List roadtrip to Alaska for exploring and fishing.  Their travel rig is a 29-foot 2005 Wildcat 5th wheel trailer with two stand-alone generators (Honda EU 2000's) that can be linked together, and three 120-watt solar panels. "It allows us to go to places that are more remote, often more beautiful," says Becky.
Anytime Paul and Jimmy are in the same vicinity they always find a pool table.  They share the title of Annual 8-Ball Pool Tournament Champion for Park Sierra–Jimmy in 2012, Paul in 2016.
If you go:
Park of the Sierras
45323 Park Sierra Dr.
Coarsegold, CA 93614
Click here for directions.
Rates – SKP Members only:
Daily – 30 amp = $21; 50 amp = $26. Includes electricity, full hookups, Cable TV and Wi-Fi.
Weekly – $112 + electricity
Monthly – $480 (30 days), + electricity.
Dry Camping – First night free, $5 per day, seven-day limit.
Reservations, call (559) 658-8696 (some restrictions apply).
— For other posts on Park of the Sierras and our time there, click here.
Photos: (From the top) RVer Jimmy Smith and his folding Bike Friday at our favorite camp site at POS, # 413.  (Next) Marilyn Russell in her shed office. (Next) Char and David Streit at the Tree Trimming Party and potluck.  (Next) Longtime gal-pals Joyce Caudell and Julianne Crane (Jimmy Smith). (Next) Paul and Becky Bates formerly of Hawaii.  (Bottom) The center of social activities at POS is the Club House. (Julianne G. Crane)