This is the first of three postings on Boondocking.
With high fuel prices, more and more recreation vehicle (RV) owners are looking for ways to trim other traveling costs, including overnight camping costs.
Many RVers, especially 'snowbirds' who travel south in the winter, seek out free or low cost places to dry camp without utility hookups (such as water, sewer or electricity) common in commercial RV parks.
Another name for dry camping is "boondocking" because many of these sites can be located in rural areas, or out in the boondocks on public lands.
"Most boondocking is free or has minimal charges," said longtime RV writer Bob Difley, "unlike the rising costs of private and public campgrounds, which can be a substantial daily expense in the current depressed economic climate."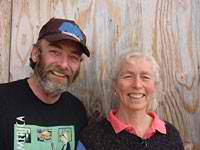 Difley and his wife, Lynn, were fulltime RVers for 17 years, and during that time they spent many a night dry camping. Bob is the author of "Boondocking: Finding the perfect campsite on America's public lands" and writes frequent posts about boondocking for RV.net and RVBoondockingNews.com.
"There are many reasons why boondocking is popular," added Bob, "modern RVs are built to be self-contained and RVers can camp anywhere they can legally park their rig."
For those who want rustic experiences, there are thousands of low-cost or free places to camp on public lands managed by the USDA Forest Service, Corps of Engineers and Bureau of Land Management.
If you missed the other two posts on Boondocking, click here.
Photos: (Top) The Difleys frequently dry camp on public lands including Lassen National Forest. (Bottom) Bob and Lynn Difley. (Courtesy of Bob Difley)