This is the third of four postings on the trend toward  'Small Towable RVs'.
As a reminder, for safety, all recreation vehicle owners need to know three figures: their tow vehicle's maximum hauling/load capacity; their RV's dry weight and gross vehicle weight rating (GVWR) with all cargo onboard.
David Vogel of Spokane, Wash., knows his 2011 Toyota Tacoma four-cylinder compact pickup has a towing capacity of 3,500 pounds, and after much research, he selected a new 2013 Forest River 18-foot R-Pod, with a dry weight of 2,500 pounds.
"That gives me around 1,000 pounds for cargo and water. You never want to exceed your vehicle's towing capacity," said Vogel.
"These R-Pods have the retro teardrop shape of trailers of bygone years," he said. "I liked the one with the slide-out, which gives an extra bunch of room inside that is critical in such a small trailer."
Interior space and design are also crucial to Canadian snowbirds Bob and Ellen Rogers of British Columbia because they live in their trailer for five months a year when traveling south each winter to the Texas Gulf Coast. They picked a 2010 Keystone 19-foot Hideout.
"It is relatively compact and light-ish at 4,100-pound dry weight," said Bob Rogers, a retired engineer. "We did not want pullouts or complicated features, and were impressed with the layout and amenities it offered in a small space."
Dave Vogel said that as he learns more about the RVing lifestyle, he will be able to explore new places, adventures and friends.
"This cozy little home on wheels has all the necessities and a few extras," he said. "Who knows, someday I might be ready to dump my job entirely and hit the road full-time."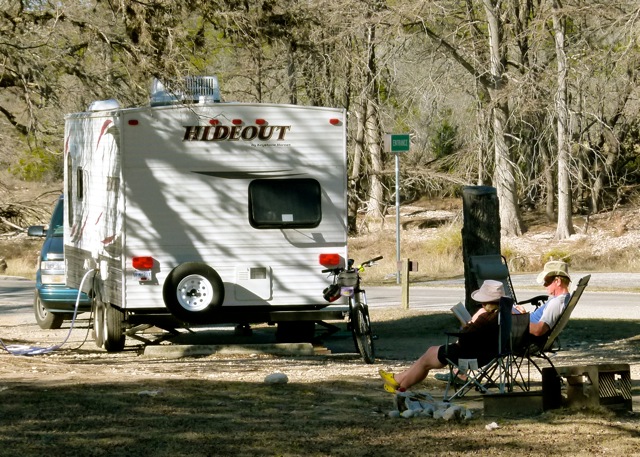 To read part 1 on 'Small towable RVs,' click on — "Economical to pull"
To read part 2 click on — "Easy to handle"
To read part 4, click on — "One man's search for the perfect sized RV for his active retirement "
Photos: (Top) Dave Vogel of Spokane, Wash., and his 9-year old boxer, Max, are discovering the Pacific Northwest in his 2013 18-foot R-Pod Hood River Edition travel trailer by Forest River out of Oregon. (Bottom) Snowbirds Bob and Ellen Rogers of British Columbia travel south each winter in their 2010 19-foot Keystone Hideout travel trailer to relax and soak in the warm sunshine on the Texas Gulf Coast. (Photos by Julianne G. Crane)